Synology Video Station stopped supporting DTS codec. I've tested myself with a DS1813 and it solved my issues with this codec.
What you need is install a 3rd party spk ffmpeg.
Download ffmpeg package for Synology
Download the package from this ffmpeg. To find out which one you need refer to this link with the architecture mapping. In my case I had to download "FFmpegWithDTS-comcerto2k-1.0-0005.spk".
Install package manually
Go to the Package Center
Choose "Manual install" on the top and select the ffmpeg package previously downloaded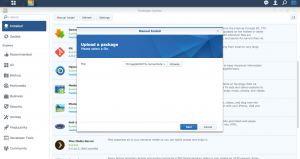 It should all be working now! Your Synology NAS has now support for the DTS codec!